Aisle Style – Wedding Etiquette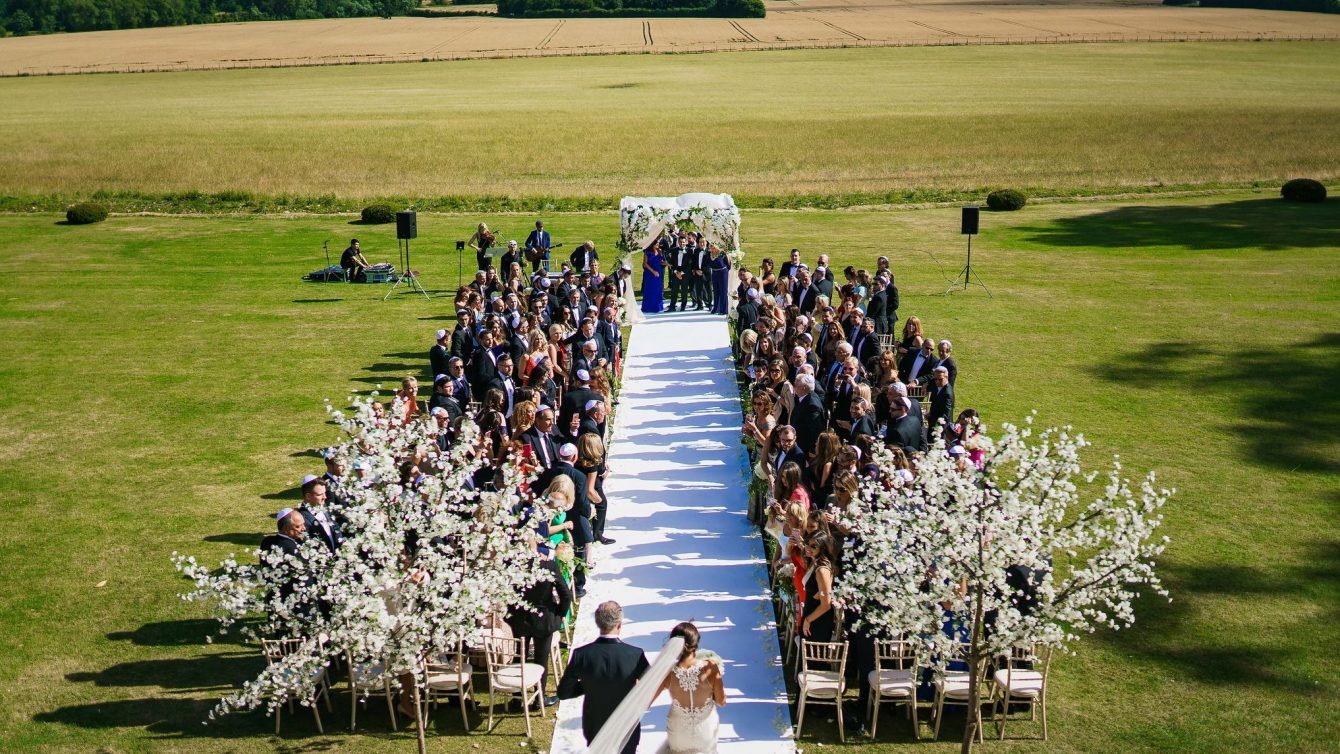 In light of the forthcoming nuptials and with a little advice from our team of Butlers, we have composed a simple guide to modern wedding etiquette.
Whether the couple is rock n' roll royalty or a crowned Prince – weddings are steeped in tradition that should be upheld as much as possible.
INVITATIONS
COUPLE:
You should never refer to your wedding invitations as 'invites'. When it comes to the design of your wedding invitations, the traditional wording should be:
Mr and Mrs William Bailey
request the pleasure of your company
at the marriage of their daughter
Hannah Bailey
to
Mr James Henry Smith
at St Michael's Church
on Saturday 19th May 2018
at two o'clock
and afterwards at
Aynhoe Park, Oxfordshire
GUEST:
Pay attention to the deadline on the invitation. In fact, if you know your reply, pop it in the mail as soon as possible.
Never assume you can bring a guest or children. Don't be offended that children are not invited to the wedding when bridesmaids and page boys will attend. A child free wedding makes it easier for you and can be less stressful for the couple.
PRESENTS
COUPLE:
Adding your gift registry to your invitation is a major faux pas – your beautiful wedding invitation are a way of inviting your guest to witness your wedding vows not to choose your new toaster.
If you are to have a wedding registry tell your wedding party, most certainly your mother and mother in law and brides-maids – where you are 'registered' – this will soon travel like wild fire through the wedding guest list.
Use www.prezola.com – they are the best wedding registry company in the UK with personal shopping and a platinum service to for those seeking the unusual.
GUEST:
If you hear along the wedding party grapevine that the couple is registered make sure you buy something early – don't leave it to the last moment and be stuck with buying a tea towel or the crown jewels!
If you would like to buy a gift away from the couple's registry, make sure you arrange delivery when they return home from wedding or the honey moon – The couple will have so much to think about the day after the big day, so your present and the dozen more they might receive will be another thing to strap to the top of the car or leave behind and organise collection. You want to make sure their departure is as stress free as possible.
ARRIVAL
COUPLE:
It is of course your proactive to be late today – but try to be latest 10 minutes for the church. Any later the ladies from the knitting group will be knocking on the door setting up chairs and teas in your I do's as you've run into their weekly meeting. Your other half has already been waiting longer than you – just get on with it!
GUEST:
Today is not your day – and however fashionable you are – you cant be late!
Aim to arrive 20 minutes before and settle into your pew – the bride can be late – but guests running in as the organs start is definitely not good etiquette!
DRESS CODE
COUPLE:
Make sure it is very clear on the invitation what the dress code is for your guests.
GUEST:
Make sure you read the invitation and double check with the bridal party that you are wearing something appropriate – men and ties, men and morning suits etc…
Never ever wear white, whatever your gender – there is a rainbow of colours and today is not the day for white or even cream for you!
THANK YOU
COUPLE:
It is not customary to have a bridal line anymore, so you will have to make sure to waft around your guests to acknowledge their attendance and get involved in chat.
GUEST:
The couple have so many people to see on this special day – make sure you see them, tell them how wonderful they look – how much fun your having, what lovely friends and family they have but suggest politely they leave you so they can see their others guests. This way they don't feel bad for not spending much time with you – and are elated with your compliments
Also make sure you seek out both parents of the couples out, to thank them and congratulate them on the day and the union.
PHOTOGRAPHERS
COUPLE:
You must book a photographer (and personally I would suggest a videographer)
The photographer needs to be stealth like and move around your wedding like a thief – stealing all the best moments!!
Remember your guests whilst your having family photos – make sure they have lots of food circling and that a attentive team top up their drinks.
Games and entertainment will also help whilst your distracted with the formalities.
GUEST:
Make sure you are not getting in the way of the couples photos – the photographer only has one chance to capture some of those special moments and the couple won't be too happy to find all their photos have been 'photobombed'. When it is your chance to have a photo make sure you perform – laughing and enjoying so that the couple can look back on them and cherish the memories made.
Tho I know you want to catch the moment to – try to be aware of your iPhone – don't let it get in the way of the paid photographer.
PARTY
COUPLE:
Do have a first dance -and do have a couple of dancing lessons if you or your other half have two left feet.
Don't worry yourself with how much fun everyone else is having – they are here for you and this is your day.
Make sure to get 10 minutes together because the day can go so fast
GUEST:
Enjoy the party – get up and dance, clap, laugh loudly – your hosts want you to have the best time. Let them know you are by filling the dance floor and chatting to new people – but don't prop up the bar so much that your too drunk and the dance moves are more Rocky Horror Show than Thriller….
GUEST BOOKS
COUPLE:
Make sure to have a guest book so that may you have a very personal record of your guests thoughts, hopes and best wishes for you both.
GUEST:
A guest book is so important and the couple want to look back at the day – but make sure to write something suitable and don't let the free flowing wine choose your words for you.
FAVOR
COUPLE:
Do put something on your table for the wedding breakfast – it adds a personal touch to your table. It is all in the details!
GUEST:
A favour at any event has been carefully thought about and curated. So from a bag of traditional almonds or a agate coaster with your name on it – make sure you take it away – so the bride and groom feel you have appreciated their effort
Photo Credit:
Barker Evans
Craig and Eva Sanders
Caught the Light
Ann-Kathrin Koch
Millar Cole
Studio 1208
Jay Rowden
Tori Hancock
D & A Photography
Alex Beckett
Jessica Raphael
Krishanthi
Voyteck Photography