Table Manners – Autumnal Alfresco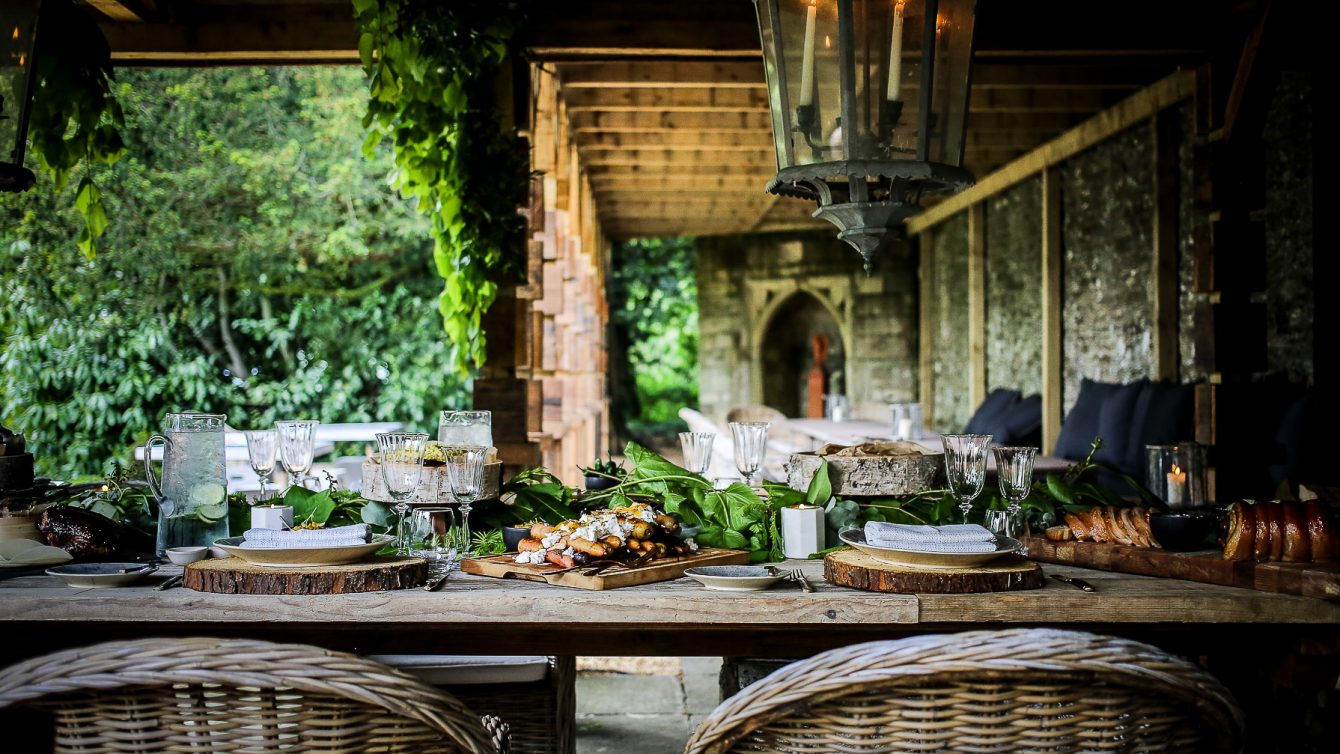 What happened to our summer? It seems to have flashed before our eyes yet again!
Tho we are now fully immersed in September –everyone back to school, the leaves turning an Autumn brown and the air a little colder, I don't think we should forget how we should still use our outside space, for entertaining; for the light can be stunning from the September sun and especially with the hot flashes of heat we received at the weekend… If we are prepared – outside dining at this time can be really magical.
We designed our terrace area for all seasons – the roof canopy protects us from any touch of rain and our large open fire keeps us and our guests warm with additional heaters and fire pits on standby when necessary.
Outside chairs should always have seat pads and/or cushions and when laying the table for your Autumnal feast I would suggest placing a blanket at each seat for your guests to keep everyone cosy!
As with every supper or dinner table you should use candles – instant ambience.
Tea lights in deep set holders – work well with sharing plates and a greenery centre piece as you can slot them into the empty spaces on the table and less likely of anyone or table catching light when passing plates – tho not unheard of!!
A BBQ or outside dining lends itself very well to sharing plates family style.
Stones created a wonderful menu of charred veggies – cooked meats and delicious warm salad; a warming red wine is the perfect accompaniment.
Your feast should be placed in the centre of the table in well coordinated or well dis-coordinated bowls and plates for sharing.
For this outside feast I decided to go…well dis-coordinated rustic – I used bowls and plates from Classic Crockery and peppered it with items I had, mixing textured ceramic with wooden bowls and a hint of metal.
In the absence of a table cloth I do like a table mat, for this table I used a piece of wood sliced from potential fire wood in the grounds as the "table mat".
My lovely friend Esther from The Flower Style Co created this greenery table centre and decorated the roof with a canopy of leaves and foliage.
You need to bring in your space, when the outside is a little chilly – so that your guests feel cosy and by creating this canapoy of foliage she did just that.
Photography: Jay Rowden & John Blackwell
Food: Stones Events
Crockery: Classic Crockery
Florist: Flower Style Co
Styling: Sophie Taylor