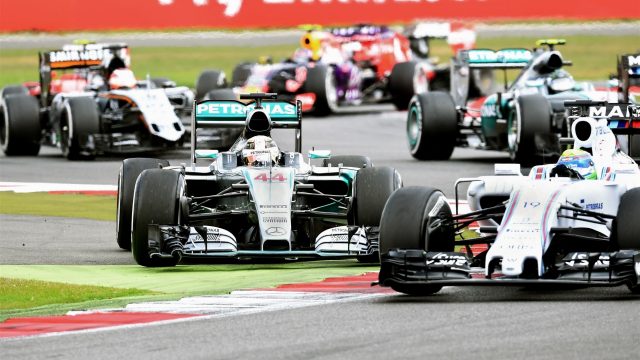 Accommodation for Silverstone Grand Prix 2016
Thursday 7th - Monday 10th July 2016
We are thrilled to announce that this year we
are celebrating being on the doorstep of the
home of british racing by opening our doors
for the very first time for the 2016 formula 1
british grand prix at silverstone, hosting the
ultimate in luxurious stays.
'If you have everything under control you're not moving fast enough'
Mario Andretti
aynhoe park will become your home for four
days & nights of off-site decadence for those
race-goers tempted by the lure of our super
sumptuous beds, delicious breakfasts and
dinners, and a cocktail or three from our
world-class bartenders.
Your four-night stay will include:
a luxury bedroom suite or
one of our new apartment suites
arriving the afternoon of thursday 7th july,
departing the morning of monday 10th july 2016
breakfast each morning
dinner each evening*
ground transportation to and from silverstone on
friday, saturday and sunday***
cocktail bar*
hot tub and gym facilities
car parking at aynhoe park
packages range from £3,000 per bedroom suite
to £5,400 for 3 bedroom apartment, all with
service from our in-house butlers
*drinks and wine not included
**general admission/hospitality at silverstone not
included
"I'm not a driver, I'm a racer"
Stirling Moss
if you would like your stay with us to be extra
special, we are pleased to offer the
following additional options:
race-day helicopter transfers from our south
lawn, directly into silverstone circuit
(£820 +vat return per passenger.
strictly limited availability.
departure at 8.20am, returning at approx.
4.30pm. all flights are dependent on
weather conditions)
1, 2 or 3-day silverstone hospitality packages
(subject to current availability; please enquire
for full details and options)
Sleep well
choose from 1 bed suites to a master guest
suite in the main house
or accommodation in the new east wing
apartments which comprise of a 1 bedroom
apartment (sleeps 2), two bedroom
apartment (sleeps 4) or 3-bedroom
apartment suite (sleeps 5)
Eat Well
enjoy an extensive, butler-served breakfast
and newspapers in our dining room, or a
lighter 'to-go' option for those wanting to make
the most of the on-track action.
dinner will be prepared each evening,
ranging from a bbq on our west lawn terrace
to something a little special in our orangery
on the eve of the race, to celebrate the
best of british.
Drink more
drinks will be served by
the aynhoe park bar team
who make the best
espresso martinis this
side of the stowe corner.
LOCATION
we are located in the village of aynho which is
just an 8 minute's drive from j10 of the m40;
approximately an hour's drive from north london.
should you wish to take the train, we are 15
minutes by taxi from bicester north and banbury
stations, both on the marylebone line.
silverstone circuit is only a 20 minute drive away,
which we expect to take 45 minutes during
qualification and race day. should you wish to
book our helicopter transfer, you can be at the
track in less than 10 minutes.
we have good secure parking facilities here at the
house and will be able to arrange silverstone
parking passes on request, should you wish to make
your own way to the track and back.
making aynhoe park your grand prix base will be the
perfect luxury option for those who want to awake
refreshed and ready for all of the on-track action.
we can't guarantee the famously unpredictable
race-weekend weather but we can definitely
guarantee that you won't have stayed anywhere
quite like aynhoe park.
we are confident that these room packages will
book quickly so please do not hesitate to contact
the events team for more information and current
availability.
+441869 810636 or thebutler@aynhoepark.co.uk